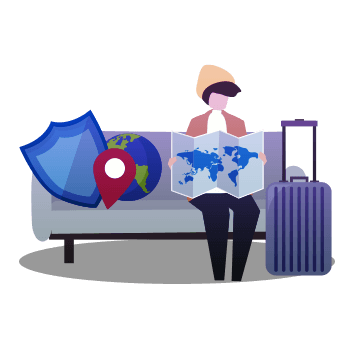 WHAT IS TRAVEL INSURANCE?
Travel Insurance offers coverage against various types of emergencies like medical expenses. The medical expenses involve medical evaluation and repatriation, detaining checked-in baggage or absolute loss of checked-in baggage, forgotten connections, financial emergency assistance, and so on.
A travel insurance policy is an important piece of documentation that is beneficial when you travel abroad. We must buy a travel insurance policy in advance to cover the dates you've travelled on. Not only this, but travel insurance also provides you with the freedom to enjoy your trip without any interruptions.
So, always make sure that you have the right travel insurance policy that covers all your needs and can be bought online. Buying travel insurance online would help you to stay secure in case of a mishap. Bajaj Allianz offers travel insurance plans for adventurous travellers and senior citizens. Travel insurance can be availed for multiple or single trips, depending on your needs and budget.
The multi-trip travel insurance plan is handy for the frequent travellers and it insures all the multiple trips within the specified duration. The cost and coverage of travel insurance depending on the nature of the trip.
Always remember that a travel insurance policy is an investment because it's something that you're doing for yourself and your loved ones to keep them safe. Now, you can select a travel insurance policy online sitting at the comfort of your home. We're just a click away waiting for you with the best travel insurance plans in India.
WHY DO YOU NEED TRAVEL INSURANCE?
You need a travel insurance policy for various reasons like –
✓   Overseas medical emergencies
✓   Delayed flights
✓   Country/Visa Requirements
✓   Loss/Delay of Luggage
✓   Cover for Natural Calamities or Human-made Disasters
✓   Missed Flights/ Trip Cancellation
✓   Study interruptions
✓   Flight hijack
Do You Need A Travel Insurance Policy? : If that's the question you're battling with, read on to check the answer to this question! Medical expenses usually cost 3 to 5 times more in foreign countries. Around 25 million baggage are mislaid by airlines every year. Travel scams are very common in tourist-heavy countries.
So, it's important not only to purchase a travel insurance plan but also to choose the right one. If you buy a travel insurance plan online, you're safeguarding your trip against all the financial losses. Leave aside the financial backup and roaming around abroad without any adequate insurance coverage, as this can prove fatal at the times of an unfortunate event.
A lost passport or a missed flight are very scary situations for the tourists. One can feel lost even without an insurance cover in a variety of situations, so always keep a backup with travel insurance policy.
FEATURES OF TRAVEL INSURANCE IN INDIA
Now that you understand the importance of buying travel insurance, it is important to understand its potential to provide coverage. Hence, listed below are the essential features of getting to understand how travel insurance in India can help you enjoy your holiday.
Coverage for Flight Related Issues:

Even though an aeroplane is considered one of the safest ways to travel, accidents do not knock before coming. Flight-related issues include the delayed travel or hijack situation, the insurance plan will cover you for the expenses occurring during the course of adversity.

Cashless Treatment:

Although we do not wish to visit a hospital during a holiday, actually having to go there can also be financially draining. However, you can get covered under the travel insurance plans and benefit from the cashless facility. You can avail this service at the hospitals, which are empanelled under the insurance provider.

Trip-Related Adversities: 

A lot of reasons can force you to cancel your trip, stay back, and attend to more important matters. Buying a travel insurance plan can protect from losing money. This includes non-refundable flight tickets, hotel bookings, etc. 

A Plan for Every Age

People belonging to different age groups have varied preferences regarding a trip. Where the aged individuals require more travel assistance and they are also vulnerable to theft and other similar incidents. The good thing is that you can buy travel insurance policy specific to your age group with apt benefits and coverage.

Emergency Cash Advance: 

Your travel insurance policy includes cash advances in emergency situations. Getting stuck abroad due to hospitalisation, loss of credit card/cash and traveller's cheques can be troublesome. With an insurance policy, you can receive a cash advance after a specified time. 

Coverage for Baggage/Passport Loss

Nothing can be more dreading and dangerous than losing your baggage or passport while on a trip. Travel insurance policy opted by you might not recover your passport or baggage, but you will get covered for the loss of cash or kind. Plus, it will cover the expenses incurred to get a new passport. 

Emergency Evacuation Plans for Frequent Flyers: 

Some insurance providers proffer year-long coverage plans for frequent flyers. To avoid spending recurring insurance policy costs, frequent flyers will receive the benefits for a year or multiple trips. 

Secures You Against Home Burglary

Burglars are often on the lookout to pick houses which are vacant when the family is gone on a trip, but you should not let it hamper your travel plans. Home burglary coverage ensures that you get compensated in case of home theft in your absence.

One Cover for the Entire Family

It is simpler and cost-effective. to get one insurance plan for the entire family instead of buying different plans for different age groups.

Automatic Claim Settlement With Trip Delay Delight

You won't have to submit a claim to get the insurance benefits. For incidents like trip-delay or flight cancellation, the covered amount will be automatically settled. .
WHY CHOOSE BAJAJ ALLIANZ TRAVEL INSURANCE?
| Feature | Bajaj Allianz Travel Insurance Benefit |
| --- | --- |
| Premium Amount | Starting from INR 206 |
| Claim Procedure | Smartphone-enabled claim settlement, paperless |
| Claim Settlement | Available 24×7, Missed Call Service also available |
| Number of Covered Countries | 216 countries and islands across the globe |
| Flight Delay Coverage | INR 500 to 1,000 compensation for flights delayed by four hours or more |
| Inclusion of Deductibles | No Deductibles |
| Add-on Benefits | Adventure sports, hospitalization cover, check-in baggage delay, loss of passport, emergency cash advance, trip cancellation cover, etc. |
TYPES OF TRAVEL INSURANCE IN INDIA
Good and user-oriented travel insurance plans will make your trip a great vacation. It secures you at various steps, which is the financial coverage as the top priority.
Do not rush while selecting the best travel insurance policy for your family and yourself. For hassle-free and safe travel, choose wisely and save your money without selecting the first option you see.
A Travel Insurance is a cushion which takes the blow for the fall, makes your trip more fun and memorable.
Individual Travel Insurance

Going on a solo trip? Or travelling to meet your family abroad? When you are travelling alone, you need extra protection and access to instant help, especially in case of a hospitalisation or other emergency situations.

Benefits under Individual Travel Insurance Plan: All covers in the maximum plans are the same, or somewhat similar to the other, but vary with terms and conditions. It includes benefits like accidental emergencies, accidental death, medical services expenses, dental expenses and other non-medical factors like baggage loss, passport loss and many more.

Family Travel Insurance

A Travel Insurance plan specially planned for the families who travel together. The insurance plan covers the immediate family of the policyholder under the family travel insurance plan. The policyholder, his/her spouse and children.

Coverage under Family Travel Insurance Plan: The insured family members of the policy holder are covered for medical expenses, loss of baggage, personal liabilities, loss of passport, delay in the baggage and many more.

Senior Citizen Travel Insurance

Just like the health insurance plan is tailored to the age factor, the travel insurance for senior citizens  is also best for individuals above the age of 70. The elderly people prefer to travel after retirement and often travel alone as well or just in couples. This type of plan protects them from uncertainties.

Covers under Senior Citizen Travel Insurance Plan: The benefits for a senior citizen travel insurance plans include the unpredictable financial crisis on travel like repatriation of mortal loss, medical bills, loss or delay of check-in baggage, Emergency medical evacuation and more based on the insurance firm.

Corporate Travel Insurance

The Corporate travel insurance plans serve best to the businessmen travelling frequently for corporate works. The beneficiaries under this plan can enjoy a year-long of benefits and policy coverage, allowing travel in and out of the country with a peace of mind.

Covers under Corporate Travel Insurance Plan: The coverage under the Corporate travel insurance plans is basic medical expenses, flight delay, baggage loss, missing connecting flights, etc.

Student Travel Insurance

This plan is specifically tailored to be student-friendly. It has a special feature of the extension of the validity up to specific time, mainly 2 years.

Covers under Student Travel Insurance Plan: It covers the basic overseas travel insurance covers and provides some add ons as well. The covers like bail bond, medical evacuation, study interruption, sponsor protection and some more.

Group Travel Insurance

The travel insurance policy customised for the people travelling in groups. This type of travel insurance is mostly organised by the tour organisers. Tours for historic destinations, museums, industrial training are placed under Group Travel.

Covers under Group Travel Insurance Plan: The Group Travel Insurance covers the group going from India or within the domestic borders of India. It covers personal accidents and baggage coverage but it depends upon the limit per person of the group.

Domestic Travel Insurance

When travelling within the geographical borders of India, domestic travel insurance is a beneficial companion. It protects you from several types of situations and emergencies (financial and otherwise).

Covers under Domestic Travel Insurance: Benefits include medical coverage, personal accidents, and loss of baggage are also a part of this Insurance.

International Travel Insurance

Covering a much wider range, the international travel insurance plans cover overseas travel, trip, holiday, family visitation, study, business meetings, and much more.  It further depends upon the plans offered by the insurance company.

Covers under International Travel Insurance Plan: It covers several factors – medical and dental expenses, loss of baggage and passport, trip cancellation, flight delays, etc.

Schengen Travel Insurance

For the people travelling to a Schengen country, a special insurance policy is required, i.e. the Schengen travel insurance policy. They secure you from any type of financial losses

Covers under Schengen Travel Insurance Plan: The medical coverage, loss of passport, delay in check-in baggage arrival, loss of check-in baggage, accidental death and dismemberment, personal accident cover and personal liabilities. These are the most common covers under the plan of Schengen Travel Insurance.

Single Trip Travel Insurance

The single trip travel insurance plan is beneficial for those who travel abroad once in a while. This plan allows the insurance coverage from the start of the journey until the policyholder and the accompanying beneficiaries are back inside the country's borders.

Covers under Single Trip Travel Insurance Plan: If travelling internationally, the international travel insurance plan is opted along with the host cover for the other factors like medical emergencies, baggage loss or delay on check-in baggage, non-medical covers, etc.

Multi-Trip Travel Insurance

The Multi-Trip Travel Insurance plan is customised for those travellers who travel often or more than once in a year. It stands to cover round trip journeys for a specified time period, which is usually one year.

This plan of the multi-trip travel insurance is preferred by the businessmen and corporate sectors as it helps to save an ample amount of money by opting this policy for your travelling trips.

Covers under Multi-Trip Travel Insurance Plan: The covers for the multi-trip travel insurance are like the other international travel insurance covers. The medical emergencies and non-medical ones like loss of passport, personal liabilities, emergency medical evacuation, loss or delay of check-in baggage and other covers specified under the plan by the insurance firm.

Additional Tips for Opting the Best Travel Insurance Plans

When planning, try to choose the best travel insurance for yourself as well. It protects you from the unpredictable conditions that may occur and travel insurance secures you on the financial terms too.

It is not tough to select the best plan with your insurance company when travelling abroad. Choose wisely so that any trip or journey you are taking should be a memorable one. Opt for the covers which are best for you. Never take anything for granted as nothing is predictable and we as your Insurance Advisers want you safe, always.
TRAVEL INSURANCE COVERAGE
LOSS OF BAGGAGE

Under the baggage loss, you are compensated for the permanent loss of the baggage you were travelling with based on the check-in baggage stored. When stranded without baggage, you may feel left out and even frustrated, but the baggage cover allows you to incur the necessary expenses and they will be covered under the policy.

BAGGAGE DELAY

In travel insurance coverage, the baggage delay is compensated for the items in the baggage like worn clothes, toiletries, other essentials. When required, delay in the baggage can be stressful and sometimes leads to loss of baggage at the end.

FLIGHT DELAY

In situations of flight delay and re-booking a new flight, the unplanned additional expenses are compensated or booked by the insurance company if possible. In some situations the travel insurance company may offer to book a new flight for you, if delayed, but you should inform the insurer promptly.

TRIP CANCELLATION/ CURTAILMENT

Various reasons can lead to a trip cancellation or curtailment. With the travel insurance policy, you can rest assured that your ticket expenses will be covered and you can get the amount reimbursed. Such a cover becomes even more important when the tickets you have booked are non-refundable.

Riots, protests, strikes, natural calamities, death in the family, bad weather, and so on. Any sort of emergency situation can lead to trip cancellation or curtailment. But with the travel insurance policy you can get reimbursed for the ticket expenses.

BOUNCED FLIGHT/ HOTEL BOOKING

In situations like this, the hotels or flight seats already booked by the traveller are not available on arrival. In such cases, the insured person is reimbursed for the pre-booked hotel room or the airline bookings if the preferred accommodations are not available at arrival. The travel insurance coverage can be claimed for it if opted under the travel insurance policy.

LOSS OF PASSPORT

In situations of a bag being stolen and losing your passport, you are covered under the Travel Insurance Policy. Up to the sum insured limit, the charges of getting a new passport are met by the insurance company.

HIJACKING

In rare cases, if your plane gets hijacked during a trip, having this cover of a policy can compensate you for the emotional distress. These types of policy covers are not generally opted by the policyholder but when travelling to destinations unknown, can help with having this cover immensely.

CREDIT CARD THEFT

Credit card theft is the cover which should be a must when travelling abroad. If and when your credit card is stolen or lost, immediately inform your insurer. Informing the insurance provider makes you eligible to receive emergency cash advance. The details of the same will be provided to you by the consulting agent or the information will be shared with the beneficiary appropriately.

HOME BURGLARY

Under this point of the travel insurance coverage, if you are out on a vacation or a business trip and your house gets broken into, your Insurer will pay for the damages and loss incurred by you in that robbery. However, the amount you receive depends on your insurance policy and the extent of cover

Personal Liability

The clause of Personal Liability covers you from the claim made against you for bodily injury, damage to property or damage to another person during a trip. When away from the security of your house, it gets difficult to settle a situation on an unknown land. The cover of personal liability secures you from such unwanted and unprovoked situations.

Personal Injuries

Personal injuries incurred during the trip are compensated or expenses are undertaken by the travel insurance company. Injuries met under the influence of drugs or alcohol are not covered.

Interruption of Studies

Under the Student Travel Insurance Plan, many insurance providers cover expenses and costs you end up paying for your studies abroad. The insurance companies reimburse the tuition fees to the insured, paid in advance to the institutions by the insured.

Medical Evacuation

Regular Travel Insurance covers emergency medical evacuation. It includes the airlift, or the cost incurred to supply medically equipped flight apparatus back to the home country.

Accidental Death

The accidental death cover is the most important aspect of the travel insurance plans. Any individual or family member of the policyholder travelling overseas should add this accidental death clause in the policy of their travel insurance.  In this cover, in case of the accidental death, while travelling,the family of the deceased is compensated up to the sum limit insured.
Any financial loss occurring before or during the trip is covered by the travel insurance coverage as a comprehensive cover. The trip can go down the hill due to some unforeseen situations very quickly and easily that can put you at a financial loss. It is where the Travel Insurance Policy provides the safety net and saves your trip.